Join a leading company in the Door & Hardware, Industrial Supply, and Lock & Security Industry.
We are a well-regarded company in Southwestern Ontario that has a rich history of providing quality service and products which spans over 113 years. We offer competitive salaries and benefits including a company matching Retirement Savings Plan.
As a multi faceted company supplying various industries, we provide a variety of employment opportunities that promote employee growth and development.
We know that the success of our company is the strength and talent of our staff.
We believe our culture to be unique, in that we place a high value on family work life balance. We work hard, and support each other in the different roles we have. We are professional and respectful – yet casual and fun.
It is a priority that our staff go home each night without incident. We are committed to protecting the health and safety of our employees through prevention, awareness, education, and training.
With a workforce of over 90 employees there are a variety of roles and opportunities within our company. Just to name a few:
Delivery Truck Driver
Electronic Security Technician
Inside Service & Sales
Installation & Service Technician
Mechanical Lock Technician (Locksmithing)
Metal Shop Technician
Outside Sales Representative
Project Coordinator
Shipper Receiver
Administration
Management and Supervisory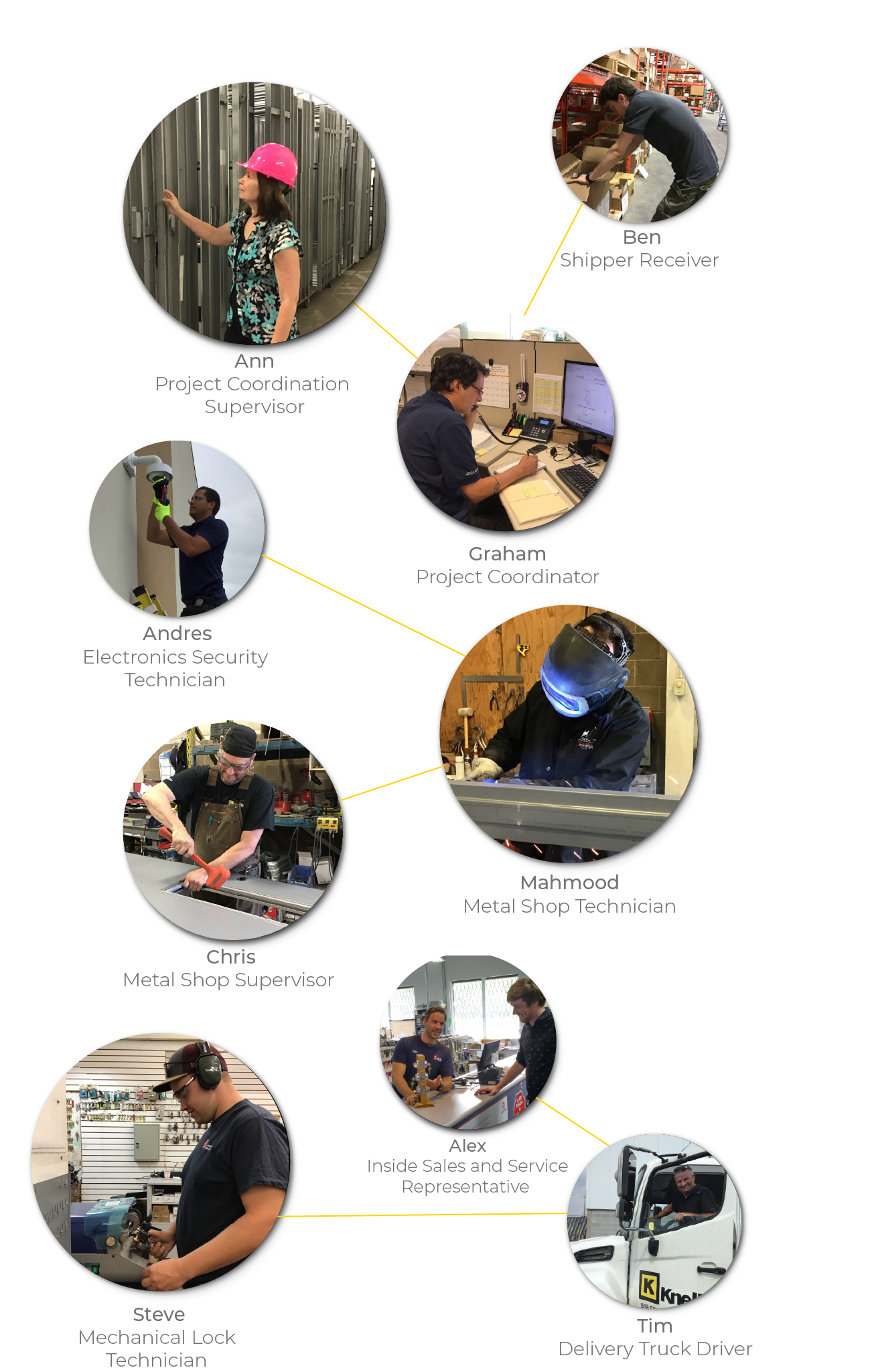 As we continue to grow and expand we are regularly looking for talented people to be part of our team, whether you are looking for your first job, or your next one. We seek individuals that share our values, embrace new challenges, connect with our customers, and are committed to a job well done.
Competitive Salaries & Group Health Benefits

Registered Retirement Savings Plan (RRSP) is offered to all staff following a qualifying period


Training and development opportunities

What Our Staff Say About Us
Testimonials
"I have enjoyed my many years of working at Knells, the people I work with feel like extended family."
– Steve Bacvar, Inside Service and Sales
"In my short time being here I'm thrilled to have the opportunity to work alongside a supportive and hardworking team, that is dedicated to providing exceptional service. I hope to continue to use my talents and knowledge to propel the company's growth. As well continue to feel appreciated for my work in the amazing work environment Knell's provides for all its employees."
–  Andres Aguilar, Software and Network/Electronics Security Technician
"Over 5 years in project coordination with Knells has afforded me the opportunity to work in a supportive atmosphere; an environment that challenges me daily; one that promotes education and growth in the industry; and supports a healthy work-life balance.  Still enjoy coming in every day!"
– Graham Wolff, Project Coordinator
"I have worked for William Knell for just over five years now. Actually, I am a 'born again' Knell's employee, I worked here from 1996 to 1998, back when we were on Victoria St. (And there are a few of us 'born-again' people here). This was, and is a great place to work!"
– Peter Landry, Inside Service and Sales
"I feel lucky, and proud, to be working for William Knell and Company".
– Jeff Bechard, Sales Representative